One Church,
Two Locations.
Gospel Community Church meets in two
physical locations, and you can always
join us via Live Stream.
Pre-register for an In-Person Service
Services at 8:00, 9:30 and 11:15 a.m.
Worship with us online via our Live Stream:

8:00, 9:30 & 11:15 a.m.
Gospel Community Rivermont
1301 Rivermont Ave
Lynchburg, VA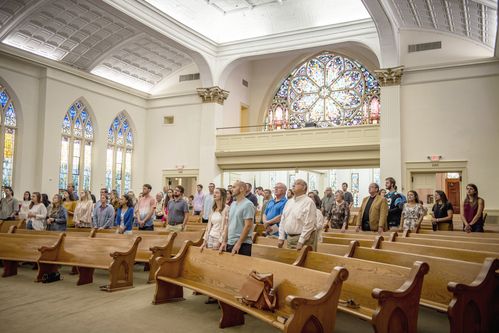 Pre-register for an In-Person Service
Services at 11 a.m.
Worship with us via our Live Stream:
11:00 a.m.
GC College Hill
1101 Floyd St
Lynchburg, VA
This is an unprecedented time for our world, but we believe that the church is never closed, and Jesus is still in control. Things may look different for a season, but our mission hasn't changed and has never been more important.

During this time of slowly reopening, we will continue our online worship services while also having in-person worship. Below you'll find information on each of these options.

SPECIAL NOTE regarding Out-of-State Travel:
For those who have recently traveled out of the state, we ask that you watch our services online (via our Live Stream) for two Sundays after your return to Virginia before joining us in-person.
ZERO-CONTACT SERVICES
Greeters & ushers will open doors, seat you 6 ft. apart, & dismiss you.

Designated single points of entry & exit.

Disinfecting between services; masks are required & provided as needed.

Hand sanitizer available but no coffee or food for now; Cafe will remain closed.
NO CLASSES
Discipleship Communities will not meet for now.
PLEASE STAY HOME IF:

You're feeling sick
You experience

Fever / Cough
Shortness of breath

You're in a vulnerable population
You've traveled out of state recently
What to Expect at In-Person Services: